Wheels » Vossen Forged: ML-R Series
Vossen Forged ML-R Series - custom forged wheels, made to order.
The first of the new Vossen Forged Mono-lip styles, the ML-R Series utilizes a multi-piece style outer lip design while maintaining a monoblock forged construction.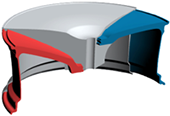 All Vossen Forged wheels are cut from Vossen's very own exclusive forgings which have been designed to accommodate their proprietary "Infini-Lip" barrel profile. In order to provide any vehicle with the most ideal spoke profile possible, Vossen engineers their forgings with extra material on the face so that they are able to accommodate from flat to super deep concave profiles. This allows them to produce an 8.5" width with maximum concavity equal to that of a 12.5".

VOSSEN 3D VIRTUAL GARAGE
Click the Vossen 3D button to the left to view Vossen wheels in 3D virtual reality on a variety of vehicles.
SOLID COLORS

Vossen Forged wheels are offered in solid colors as a standard option. Solid colors vary in shade and smoothness, including gloss, matte, satin, and textured options. Click image for larger samples.

TRANSPARENT COLORS

Vossen Forged wheels that have been hand polished and/or brushed are finished using transparent powder coats, letting the hand finishing show through any variety of shades (additional cost). Click image for larger samples.
Pricing starts at $2,000 (per wheel) MSRP.
For more info on Vossen Wheels please contact us at 480.968.1314
Looking for TPMS Sensors for your vehicle? Click Here

ML-R1Custom

ML-R2Custom

ML-R3Custom
Featured Brands
Also Available