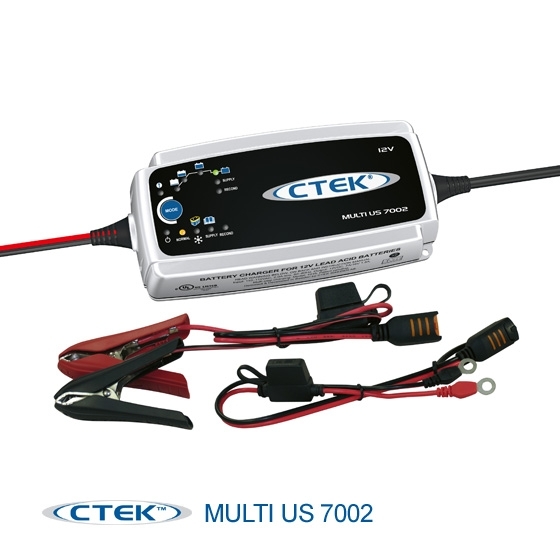 A NEW GENERATION of CTEK universal charger, the MULTI US 7002 has a unique 8-step charging curve. This new refined technology developed by CTEK ensures that the vehicle's battery gets the best possible care. It even analyzes if the battery can hold the charge given. If it cannot, the battery is faulty and needs to be replaced. The CTEK chargers are developed for safety: personal, vehicle and battery.
Fully automatic for charging and maintenance
There is no need for any specific knowledge of batteries or their charging methods; the MULTI US 7002 will take care of that. Once you switched to the preferred mode, the charger takes its own readings and then begins to charge the battery in 8 steps, including pulse maintenance for best performance and service life (arguably the most caring mode for a battery connected for a long time is a CTEK patented system). It is also perfectly suited for Optima Yellow Top batteries. The MULTI US 7002 can also be connected for months, which is ideal for seasonal vehicles.
Patented desulphation function
Unused batteries lose their power and their life is shortened through sulphation. It is also more difficult to charge sulfated batteries. The MULTI US 7002 has a patented method for reconditioning sulfated batteries. The charger analyzes the state of the battery and, if possible, recovers the battery and its power.
Made for all weather conditions and situations
The MULTI US 7002 is prepared to charge and maintain, no matter the weather, temperature or situation. The MULTI US 7002 is extremely robust and water and dust resistant (IP65 classification). The MULTI US 7002 is certified for use between -4F and +122F. In order to make things easier and more convenient, the Comfort Connect (eyelet terminals) can be permanently connected to the vehicle's battery.
Compatible with other electronic equipment
Most vehicles today are equipped with sensitive electronic systems. Unlike less-sophisticated chargers, there is no need to disconnect the battery; the MULTI US 7002 is specially designed to not damage electronic systems.
Designed for safety
All CTEK models are designed to consider the safety of the user. They are spark free, making the connection much easier and safer considering the gases batteries normally produce. The MULTI US 7002 is also protected from reverse-polarity connections and is short-circuit proof. A red light on the charger will simply indicate that the charging cannot begin until the user has connected the charger correctly.
Unique Supply and Recond mode
The Supply mode serves as a power supply unit that can run 12V equipment up to 7A. When changing a battery, important settings will therefore not be lost. The unique Recond mode restores the power capacity in a stratified battery, prolonging its life. The stratifying process starts after just a few deep discharges of the battery.
Featured Brands
Also Available