Proven quality, ISO9001 certified, TÜV approved.
Every spring produced by H&R comes from the H&R ISO 9001 certified engineering and manufacturing facility in Germany. All H&R springs are produced from a special 54SiCr6 spring steel, which has strength rated at 290,000 psi resulting in unrivaled tensile strength and resiliency.
Combining high-quality materials with advanced designed tools and techniques makes the final H&R product lighter and more durable than other automotive coil springs. At H&R product design and development is of the highest importance. All H&R springs are "cold" wound on specially designed CNC machinery and then time-tempered to re-align the molecular structure of the steel to ensure quality and durability.
All springs are shot-peened to increase the service life of each spring by more than 200%. Each spring is then sent through the H&R exclusive "SuperBlok™" system, which cycles each spring to ensure that sagging will never occur. Lastly, the H&R special powder coating process coats each spring with a flexible and durable finish that is highly resistant to corrosion, chips, and scratches. At H&R we care about quality—the whole production process, from start to finish, is done in-house to ensure the most consistent, highest quality product possible.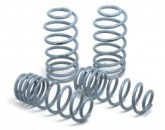 H&R OE Sport Springs
For some, the idea of upgrading a vehicle with performance suspension sounds appealing, but a noticeably lower ride height and slightly firmer spring rates don't. H&R OE Sport Springs are the solution. OE Sport Springs lower the vehicle subtly, yielding a slicker, more aggressive stance without noticeably altering appearance. The end result is a car that is more controlled and balanced, yet has the uncompromised ride characteristics you're accustomed to.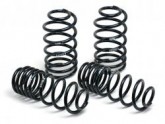 Sport Springs
H&R Sport Springs offer the handling characteristics and aggressive appearance that you've been looking for, without the harsh ride characteristics of less-advanced spring systems. H&R Sport Springs feature more control and are engineered for the street, making them comfortable and fun to drive. H&R Sport Springs are crafted from a special 54SiCr6 spring steel to ensure quality and performance.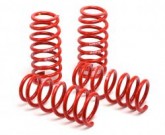 Race Springs
The name says it all. When the need for uncompromising handling performance becomes your priority, it's time to fit your car with H&R Race Springs. H&R Race Springs will provide your vehicle with over-the-top race-ready performance and appearance. Like all other H&R lowering springs, H&R Race Springs are crafted from a special 54SiCr6 spring steel. A camber adjusting device like H&R 'Triple C' Camber Adjustment Bolts may also be required in order to remove excess negative camber, ensure longer tire life, and to obtain the highest performance from your vehicle.