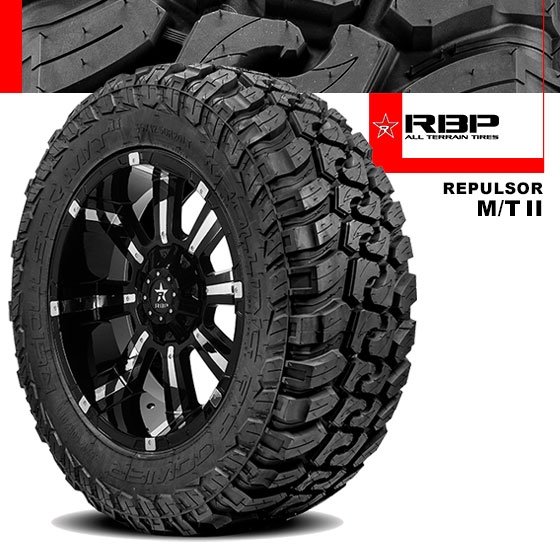 RBP's newest and most aggressive Mud Terrain Tire, driving your vehicle through the most Adverse and Challenging terrains with Voracious looks, Incredible Grip, Traction, Control, Safety and Security for you and your crew!
Attributes
Dynamic hook shaped center tread blocks maximize traction, grip and hold for the most challenging off- road conditions while eradicating tread block malformation for exalted Off Road Grip!
Aggressive shoulder blocks combine to create a visually barbarous effect while maintaining a superior capability of performance in any and all road conditions, including mud, ice, snow and just about anything else it encounters! The most technologically advanced future generation high-tensile compounds combine to deliver the ultimate resistance to chips, cuts, fatigue and cracks in addition to rubber degradation and aging, for a true experience of reliable safety, durability and tread life! The randomized tread block size synchronize with the tie bar, multi-pitch tread designs and this state of the art configuration synergize in contributing to a quieter and more enjoyable ride.
The monster tread design, coupled with formidable sidewall design and shoulder blocks will set you and your vehicle apart from the crowd while providing confidence and performance in your off road adventures!
| | |
| --- | --- |
| Type | Light Truck/SUV |
| Category | Off Road Mud-Traction |
| Treadwear | |
| Traction | |
| Temperature | |
| Sizes | Sidewall | Item No. | Catalog |
| --- | --- | --- | --- |
| LT33X12.50R17/E 120Q | BW | RBPMTII17125010 | CALL |
| LT33X12.50R18/F 122Q | BW | RBPMTII18125010 | CALL |
| LT35X12.50R18/F 128Q | BW | RBPMTII18125020 | CALL |
| LT33X12.50R20/F 119Q | BW | RBPMTII20125010 | CALL |
| LT35X12.50R20/F 125Q | BW | RBPMTII20125020 | CALL |
| LT37X13.50R20/E 127Q | BW | RBPMTII20135010 | CALL |
| LT35X13.50R22/E 121Q | BW | RBPMTII22135010 | CALL |
| LT37X13.50R22/F 128Q | BW | RBPMTII22135020 | CALL |
| LT38X15.50R22/E 126Q | BW | RBPMTII22155010 | CALL |
| LT40X15.50R22/E 132Q | BW | RBPMTII22155020 | CALL |