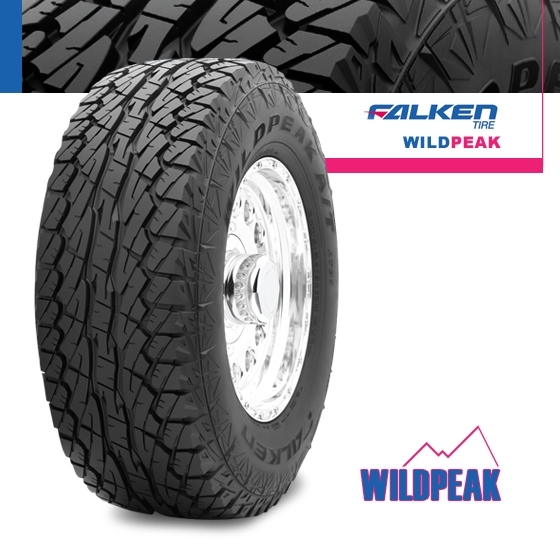 Falken Tire has reinvigorated the all-performance sport utility and light truck tire market with the introduction of the new all-terrain, all-season, all-purpose WildPeak A/T. With an aggressive stance for maximum traction, the WildPeak A/T stands out from the crowd, featuring a symmetric five-rib pattern and rigid block designs allowing for exceptional on-road response and optimized off-road handling, coupled with two stiff, extra-wide steel belts for stability.
A key feature of the new WildPeak A/T is the availability of sizes for the expansive sport utility and light truck market. The tire is offered in most popular original equipment sizes in metric and LT metric with choices of 15 to 20 inch wheel diameters and many plus-sized applications. In addition, four wide, aggressive multi-angled grooves allow for maximum water, mud and snow evacuation, while aggressive biting block edges provide unparalleled traction and control.
Falken brings its extensive performance advantage to the established light truck/SUV tire market through WildPeak. The benefits of this tire will quickly make it a popular choice among consumers. With a durable, rubber compound, that offers a 50,000 limited mileage warranty, the WildPeak A/T will provide its owners with a long life and a smooth ride, exceeding all driving expectations.
WildPeak A/T is the perfect all-purpose tire, capable of tackling anything in its way. Confidence & versatility at the turn of the wheel.
| | |
| --- | --- |
| Type | Light Truck/SUV |
| Category | On/Off Road All-Terrain |
| Treadwear | 500 |
| Traction | A |
| Temperature | A |
| Sizes | Sidewall | Item No. | Catalog |
| --- | --- | --- | --- |
| 235/75R15 105S | BW | 28440529 | CALL |
| LT30X/9.50R15 104S C/6 | OWL | 28440512 | CALL |
| LT31X/10.50R15 109S C/6 | OWL | 28440514 | CALL |
| LT32X/11.50R15 113S C/6 | OWL | 28440510 | CALL |
| LT33X/12.50R15 108S C/6 | BW | 28440518 | CALL |
| LT35X/12.50R15 113S C/6 | BW | 28440920 | CALL |
| LT225/75R16 110/107Q D/8 | BW | 28446627 | CALL |
| LT245/70R16 113/110Q D/8 | OWL | 28446624 | CALL |
| LT245/70R16 D/8 113Q | OWL | 28466624 | CALL |
| LT245/75R16 120/116Q E/1 | OWL | 28446628 | CALL |
| LT245/75R16 E/10 120Q | OWL | 28466628 | CALL |
| 255/65R16 109S | BW | 28440642 | CALL |
| LT265/70R16 117/114Q D/8 | OWL | 28446638 | CALL |
| 265/70R16 112T | BW | 28444606 | CALL |
| LT265/70R16 D/8 117Q | OWL | 28466638 | CALL |
| LT265/75R16 123/120Q E/1 | OWL | 28446639 | CALL |
| LT265/75R16 E/10 123Q | OWL | 28466639 | CALL |
| LT285/75R16 122/119Q D/8 | OWL | 28446640 | CALL |
| LT285/75R16 D/8 122Q | OWL | 28466640 | CALL |
| LT305/70R16 E/10 124S | BW | 28460641 | CALL |
| LT305/70R16 124/121S E/1 | BW | 28440641 | CALL |
| LT315/75R16 121/118S D/8 | BW | 28440934 | CALL |
| LT325/80R16 124/121S D/8 | BW | 28440935 | CALL |
| 235/65R17 104T | BW | 28444790 | CALL |
| 235/70R17RF 108S | BW | 28440613 | CALL |
| 245/65R17 107S | OWL | 28440768 | CALL |
| LT245/70R17 E/10 119Q | BW | 28466718 | CALL |
| LT245/70R17 119/116Q E/1 | BW | 28446718 | CALL |
| LT245/75R17 E/10 121Q | BW | 28466711 | CALL |
| LT245/75R17 121/118Q E/1 | BW | 28446711 | CALL |
| 255/65R17 110S | OWL | 28440713 | CALL |
| 255/70R17 112S | OWL | 28440769 | CALL |
| 265/65R17 112S | BW | 28440721 | CALL |
| LT265/70R17 E/10 121S | BW | 28460712 | CALL |
| 265/70R17 113S | BW | 28440701 | CALL |
| LT265/70R17 121/118S E/1 | BW | 28440712 | CALL |
| LT285/70R17 D/8 121S | BW | 28460719 | CALL |
| LT285/70R17 121/118S D/8 | BW | 28440719 | CALL |
| LT295/70R17 121/118S E/1 | BW | 28440936 | CALL |
| LT305/65R17 E/10 121S | BW | 28460720 | CALL |
| LT305/65R17 121/118S E/1 | BW | 28440720 | CALL |
| LT315/70R17 121/118Q D/8 | BW | 28446932 | CALL |
| LT325/70R17 121S D/8 | BW | 28440933 | CALL |
| LT33X/12.50R17 114S D/8 | BW | 28440710 | CALL |
| LT33X/12.50R17 D/8 114S | BW | 28460710 | CALL |
| LT35X/12.50R17 119S D/8 | BW | 28440730 | CALL |
| LT37X/12.50R17 124S D/8 | BW | 28440921 | CALL |
| 265/60R18 109T | BW | 28444644 | CALL |
| 265/65R18 112S | BW | 28440621 | CALL |
| 265/70R18 116S | OWL | 28440809 | CALL |
| LT275/65R18 123/120Q E/1 | OWL | 28446803 | CALL |
| LT275/65R18 E/10 123Q | OWL | 28466803 | CALL |
| LT275/70R18 125/122S E/1 | BW | 28440703 | CALL |
| 285/60R18RF 120H | BW | 28441856 | CALL |
| LT285/65R18 121/118S D/8 | OWL | 28440804 | CALL |
| LT285/65R18 D/8 121S | OWL | 28460804 | CALL |
| LT305/65R18 124/121S E/1 | BW | 28440930 | CALL |
| LT325/60R18 124/121S E/1 | BW | 28440927 | CALL |
| LT325/65R18 127/124S E/1 | BW | 28440931 | CALL |
| LT35X/12.50R18 118Q D/8 | BW | 28446830 | CALL |
| LT37X/13.50R18 124S D/8 | BW | 28440922 | CALL |
| 275/55R20 111T | BW | 28444643 | CALL |
| 275/60R20 115S | BW | 28440003 | CALL |
| LT275/65R20 126/123S E/1 | BW | 28440025 | CALL |
| 285/50R20RF 116T | BW | 28444020 | CALL |
| LT305/55R20 121/118S E/1 | BW | 28440926 | CALL |
| LT325/60R20 121/118S D/8 | BW | 28440928 | CALL |
| LT355/60R20 125S D/8 | BW | 28440929 | CALL |
| LT325/50R22 122S E/10 | BW | 28440925 | CALL |
| LT37X/13.50R22 123S E/10 | BW | 28440923 | CALL |
| LT37X/13.50R24 120S E/10 | BW | 28440924 | CALL |