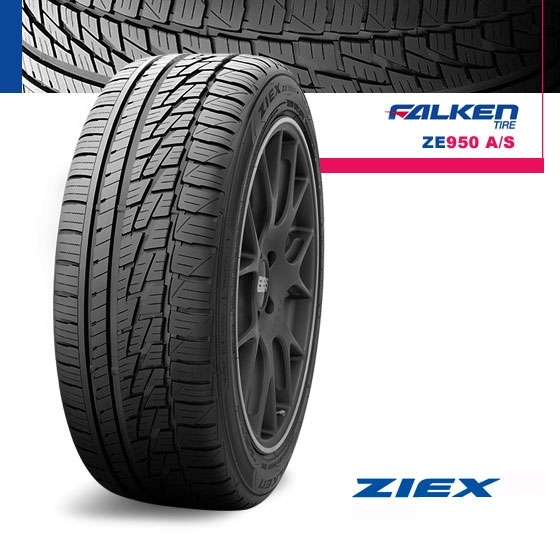 The ZIEX ZE950 All Season Tire incorporates the latest in technology and design from Falken to create an excellent choice for drivers of today's sedans, sports cars and crossover vehicles where mileage, all-season and high performance handling are a priority. Using the Falken exclusive Dynamic Range Technology (DRT) in the all new silica tread compound and asymmetric tread design, the ZIEX ZE950 All Season Tire provides optimum levels of dry, wet, ice and snow grip as well as delivering the longest mileage of any Falken High Performance tires. With 95 sizes from 15-inch to 20-inch and speed ratings of H, V, and W, the ZIEX ZE950 covers a wide range of fitments, from family sedans to cross-over vehicles.
FEATURES:
DYNAMIC RANGE TECHNOLOGY (DRT)
Allows the rubber to remain pliable at low temperatures increasing grip in wet, snow and icy conditions. During dry conditions as the rubber heats up the chemical bonds remain strong, allowing great dry handling and exceptional tread wear performance.
FALKEN EXCLUSIVE "CANYON SIPE" TECHNOLOGY
Increased edges for ice braking interlocks under load for better handling and improved wear. WIDE CIRCUMFERENTIAL GROOVES effectively evacuate water and significantly enhance hydroplaning resistance for outstanding wet handling.
WIDE ANGLED TREAD SLOT
Provides additional snow grip by allowing snow to be packed into the center of the tire.
SCULPTURED GROOVE WALL
Provides better snow grip and eliminates rain groove wander.
M+S RATED
LIMITED MILEAGE WARRANTY
W RATED 45,000 - H & V RATED 65,000
| | |
| --- | --- |
| Type | Passenger (All-Season - M+S Rated) |
| Category | High Performance |
| Treadwear | 500-600 |
| Traction | A |
| Temperature | A |
| Sizes | Sidewall | Item No. | Catalog |
| --- | --- | --- | --- |
| 175/65R15 84H | BW | 2895-1563 | CALL |
| 185/60R15 84H | BW | 2895-1516 | CALL |
| 185/65R15 88H | BW | 2895-1542 | CALL |
| 195/50R15 82H | BW | 2895-1571 | CALL |
| 195/55R15 85V | BW | 2895-2561 | CALL |
| 195/60R15 88H | BW | 2895-1551 | CALL |
| 195/65R15 91H | BW | 2895-1543 | CALL |
| 205/60R15 91H | BW | 2895-1552 | CALL |
| 205/65R15XL 99W | BW | 2895-3544 | CALL |
| 215/60R15 94H | BW | 2895-1553 | CALL |
| 215/65R15 96H | BW | 2895-1545 | CALL |
| 185/55R16 83H | BW | 2895-1677 | CALL |
| 195/50R16 84V | BW | 2895-2660 | CALL |
| 195/55R16 87V | BW | 2895-2615 | CALL |
| 205/45R16XL 87V | BW | 2895-2690 | CALL |
| 205/50R16 87V | BW | 2895-2671 | CALL |
| 205/55R16XL 94H | BW | 2895-1661 | CALL |
| 205/55R16XL 94W | BW | 2895-3483 | CALL |
| 205/60R16 92V | BW | 2895-2652 | CALL |
| 205/65R16 95V | BW | 2895-2626 | CALL |
| 215/55R16XL 97V | BW | 2895-2662 | CALL |
| 215/60R16 95H | BW | 2895-1479 | CALL |
| 215/60R16XL 99V | BW | 2895-2479 | CALL |
| 215/65R16 98H | BW | 2895-1681 | CALL |
| 225/50R16XL 96V | BW | 2895-2672 | CALL |
| 225/55R16 95V | BW | 2895-2670 | CALL |
| 225/60R16 98V | BW | 2895-2480 | CALL |
| 225/65R16 100H | BW | 2895-1673 | CALL |
| 235/60R16 100W | BW | 2895-3655 | CALL |
| 235/65R16 103H | BW | 2895-1629 | CALL |
| 245/50R16 97H | BW | 2895-1674 | CALL |
| 205/40R17XL 84W | BW | 2895-3740 | CALL |
| 205/45R17XL 88W | BW | 2895-3781 | CALL |
| 205/50R17XL 93W | BW | 2895-3770 | CALL |
| 215/45R17XL 91W | BW | 2895-3792 | CALL |
| 215/50R17 91W | BW | 2895-3771 | CALL |
| 215/55R17 94W | BW | 2895-3727 | CALL |
| 215/55R17 94V | BW | 2895-2727 | CALL |
| 215/60R17 96H | BW | 2895-1729 | CALL |
| 215/65R17 99H | BW | 2895-1782 | CALL |
| 225/45R17XL 94W | BW | 2895-3795 | CALL |
| 225/50R17 94W | BW | 2895-3772 | CALL |
| 225/55R17XL 101W | BW | 2895-3762 | CALL |
| 225/60R17 99V | BW | 2895-2728 | CALL |
| 225/65R17 102H | BW | 2895-1775 | CALL |
| 235/45R17 94W | BW | 2895-3794 | CALL |
| 235/50R17 96W | BW | 2895-3773 | CALL |
| 235/55R17 99W | BW | 2895-3725 | CALL |
| 235/60R17 102H | BW | 2895-1717 | CALL |
| 235/65R17XL 108V | BW | 2895-2790 | CALL |
| 245/40R17XL 95W | BW | 2895-3785 | CALL |
| 245/45R17XL 99W | BW | 2895-3784 | CALL |
| 245/50R17 99W | BW | 2895-3776 | CALL |
| 255/40R17 94W | BW | 2895-3796 | CALL |
| 215/35R18XL 84W | BW | 2895-3882 | CALL |
| 215/40R18XL 89W | BW | 2895-3891 | CALL |
| 215/45R18XL 93W | BW | 2895-3899 | CALL |
| 215/55R18 95H | BW | 2895-1900 | CALL |
| 225/40R18XL 92W | BW | 2895-3892 | CALL |
| 225/45R18XL 95W | BW | 2895-3824 | CALL |
| 225/50R18 95W | BW | 2895-3805 | CALL |
| 225/55R18 98V | BW | 2895-2889 | CALL |
| 225/60R18 100V | BW | 2895-2826 | CALL |
| 235/40R18XL 95W | BW | 2895-3893 | CALL |
| 235/45R18 94W | BW | 2895-3895 | CALL |
| 235/50R18XL 101W | BW | 2895-3825 | CALL |
| 235/55R18XL 104V | BW | 2895-2817 | CALL |
| 235/60R18XL 107V | BW | 2895-2816 | CALL |
| 235/65R18 106H | BW | 2895-1815 | CALL |
| 245/40R18XL 97W | BW | 2895-3894 | CALL |
| 245/40R18XL 100W | BW | 2895-3865 | CALL |
| 245/55R18 103W | BW | 2895-3863 | CALL |
| 245/60R18 105H | BW | 2895-1811 | CALL |
| 255/40R18XL 99W | BW | 2895-3844 | CALL |
| 255/45R18XL 103W | BW | 2895-3866 | CALL |
| 255/55R18XL 109W | BW | 2895-3845 | CALL |
| 255/65R18 111H | BW | 2895-1862 | CALL |
| 265/35R18XL 97W | BW | 2895-3806 | CALL |
| 265/60R18 110V | BW | 2895-2854 | CALL |
| 275/35R18XL 99W | BW | 2895-3807 | CALL |
| 225/40R19XL 93W | BW | 2895-3971 | CALL |
| 225/55R19 99W | BW | 2895-3955 | CALL |
| 235/55R19XL 105W | BW | 2895-3970 | CALL |
| 245/40R19 94W | BW | 2895-3974 | CALL |
| 245/45R19 98W | BW | 2895-3904 | CALL |
| 245/55R19 103H | BW | 2895-1814 | CALL |
| 255/35R19XL 96W | BW | 2895-3973 | CALL |
| 255/40R19XL 100W | BW | 2895-3996 | CALL |
| 255/45R19 100V | BW | 2895-2997 | CALL |
| 255/60R19 109H | BW | 2895-1813 | CALL |
| 275/40R19 101W | BW | 2895-3903 | CALL |
| 245/40R20XL 99W | BW | 2895-3002 | CALL |
| 245/45R20XL 103W | BW | 2895-3023 | CALL |
| 245/50R20 102V | BW | 2895-2026 | CALL |
| 255/35R20XL 97W | BW | 2895-3001 | CALL |
| 255/45R20XL 105W | BW | 2895-3013 | CALL |
| 275/35R20XL 102W | BW | 2895-3005 | CALL |
| 275/40R20XL 106W | BW | 2895-3947 | CALL |