Wheels » Original Equipment Chrome Exchange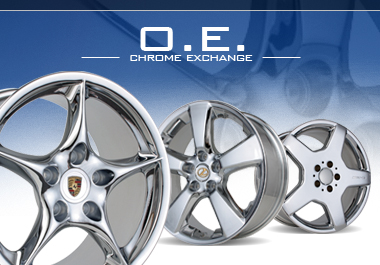 What is Chrome Exchange?
We provide you with a set of CHROME-PLATED, original equipment factory alloy wheels and you return the "TAKE-OFF" silver alloy wheels to us. since it's an exchange, you only pay for the chrome plating! Terms and conditions apply.*
Chrome plating is also available on most Multi-Piece wheels. Please call for details and pricing.
What You Need to Know

Chroming your O.E. wheels involves a 6 step process:
O.E. pre-painted wheel gets stripped down to bare aluminum then polished by hand to fix all the imperfections.
The next step will be a nickel plating bath. Nickel bath adds a strong coating that protects against corrosion.
Then the Copper plating bath will be done to ensure that the coating provides a deep lustre to the wheel and smoothes out all imperfections.
The wheel will now be hand polished to generate a deep lustre, this procedure is called Copper polishing.
Bright nickel plating bath. This step prepares the wheel for chrome.
Chrome plating bath.

When purchasing Original Equipment chrome wheels from us keep in mind that your original wheels on your vehicle can not have any flat spots, curb scraping, or severe lip damage. If your wheels do have major curb scraping or curb hit, you will be charged for the repair cost. Minor damage to the wheel like a scratch or small curb scraping may or may not need to be repaired.

Please look over the examples shown. It's a good idea to consult with one of our salesman to ensure that your wheels are ready for the exchange and don't need any repairs done.
Terms and Conditions

Customer understands that when purchasing original equipment wheels and/or accessories for chrome exchange from Wheel Specialists, Inc., the "cores" will be due. Cores need to be returned to Wheel Specialists, Inc. within 15 days of date of sale. Customer will be responsible for replacement costs of cores that are not returned within 30 days of the date of sale. Cores are to be returned at the customer's expense. Wheel Specialists, Inc. is not responsible for shipping charges related to returning cores owed to them. Cores must be the EXACT same part that was given to the customer in chrome, but in the original factory finish. Cores must also be free of any damage or defects. Customer will be responsible for any costs incurred to repair or replace cores returned that aren't in usable condition. Any chrome parts returned as cores are subject to an additional stripping charge, and may be rejected depending on their condition. Wheel Specialists, Inc. cannot be responsible for the condition of customers' parts given to them for chrome plating. It is the customer's responsibility to inspect their parts prior to shipping to determine their condition.
Special orders are subject to additional freight charges. Trademarks are the property of their respective owners, no affiliation with Wheel Specialists, Inc. is implied.