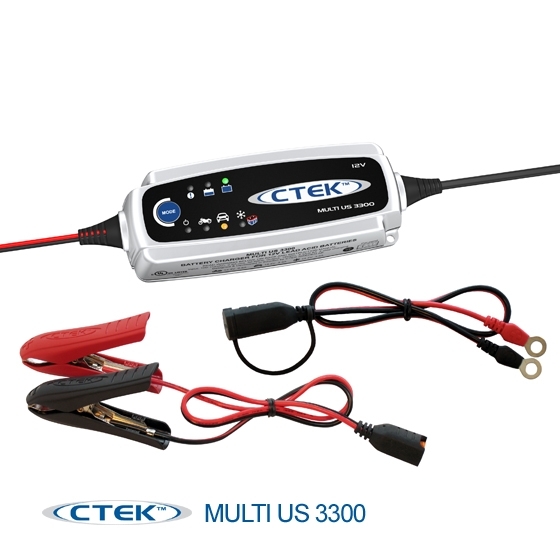 CTEK offers a wide range of NEW GENERATION battery chargers. Unlike old battery chargers, CTEK chargers are designed with a focus on simplicity, safety and flexibility. The MULTI US 3300 is the charger that every household needs. It is perfectly suited for motorcycles, cars, lawn mowers, jet skis and any other vehicle with batteries up to 120Ah. Simply connect it and battery problems are in the past.
Fully automatic for charging and maintenance
There is no need for any specific knowledge of batteries or their charging methods; the MULTI US 3300 will take care it. Once switched to the preferred mode, the charger takes its own readings and then begins to charge the battery. Once it is finished charging, it will automatically switch to its maintenance phase - CTEK's patented pulse charging - arguably the most caring mode for a battery connected for a long time. Simply connect it to solve most battery problems from the past.
Flexible for different battery needs
The MULTI US 3300 is specifically developed for different needs, vehicles and batteries. There is a choice between three different modes. The low current mode (the motorcycle icon) is perfect for smaller 12V batteries such as motorbikes, lawn mowers, jet skies, snowmobiles, etc. The higher current mode (the car icon) is for automotive or marine applications with larger batteries. Finally, an additional winter mode (the snowflake) is specifically aimed at charging and maintenance in cold weather. It is also perfectly suited for Optima Red Top batteries.
Patented desulphation function
Unused batteries lose their power and their life is shortened through sulphation. It is also more difficult to charge sulfated batteries. The MULTI US 3300 has a patented method for reconditioning sulfated batteries. The charger analyzes the state of the battery and, if possible, recovers the battery and its power.
Compatible with other electronic equipment
Most vehicles today are equipped with sensitive electronic systems. Unlike less-sophisticated chargers, there is no need to disconnect the battery; the MULTI US 3300 is specially designed to not damage electronic systems.
Made for all weather conditions and situations
The MULTI US 3300 is prepared to charge and maintain, no matter the weather, temperature or situation. The MULTI US 3300 is extremely robust and water and dust resistant (IP65 classification). The MULTI US 3300 is certified for use between -4F and +122F. In order to make things easier and more convenient, the Comfort Connect (eyelet terminals) can be permanently connected to the vehicle's battery.
Designed for safety All CTEK models are designed to consider the safety of the user. They are spark free, making the connection much easier and safer considering the gases batteries normally produce. The MULTI US 3300 is also protected from reverse-polarity connections and is short-circuit proof. A red light on the charger will simply indicate that the charging cannot begin until the user has connected the charger correctly.
Featured Brands
Also Available