Wheels » Black Rhino » Mozambique (RF) in Matte Black (Rotary Forged)
Shown in Matte Black
Rotary Forged
The Mozambique wheel by Black Rhino is a concave Rotary Forged style wheel designed for trucks. The Mozambique is designed with seven thick spokes which concave deep into the center of the wheel, bringing out what most call an aggressive look. This wheel is available in three finishes: full matte black, gloss black with milled spokes and silver and mirror cut face. The available fitments for the Mozambique are: 5x114.3, 5x120, 5x127, 5x139.7, 5x150,6x114.3, 6x135, and 6x139.7 with available sizes in: 18 inches, 20 inches, 22 inches, and 24 inches. Black Rhino provides hub centric rings for the Mozambique wheel, according to the corresponding vehicle. Each Black Rhino wheel is engineered to carry the heavy loads often associated with Trucks and SUV's.
Pictured wheel shown is not representative of all size configurations. Center profile and lip depth will change in relation to vehicle specific fitment.
The Mozambique Rotary Forged® Wheel is manufactured using a highly advanced production technique called Rotary Forging. The rim of the wheels is forged at high pressure while the wheel is spun at high speed. This alters the molecular structure and enhances the strength of the alloy. The benefit is a much lighter weight than a regular cast wheel. Most importantly, the weight saving is in the outer rim of the wheel which dramatically reduces rotational mass and enhances vehicle performance.
Other Finishes Available:
Gloss Black Milled (Rotary Forged) Silver Machined (Rotary Forged)
| Sizes | Catalog |
| --- | --- |
| 18 × 8.5 | CALL |
| 20 × 8.5 | CALL |
| 22 × 9.5 | CALL |
| 24 × 10 | CALL |
Gallery Photos Featuring Black Rhino Mozambique (RF) in Matte Black (Rotary Forged)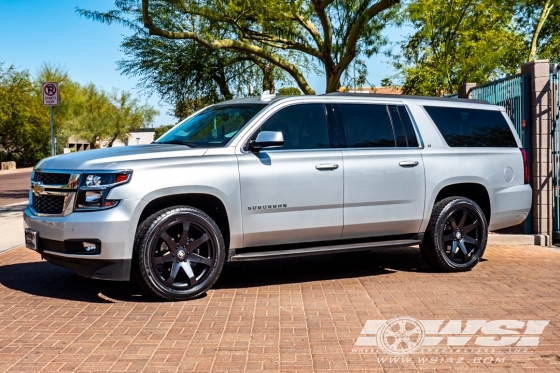 Vehicle: 2019 Chevrolet Suburban
Wheels: 22" Black Rhino Mozambique (RF) in Matte Black (Rotary Forged)


View gallery photos featuring Black Rhino Mozambique (RF) in all finishes
Featured Brands
Also Available