Wheels » TSW » Hockenheim S in Silver (Machined Lip)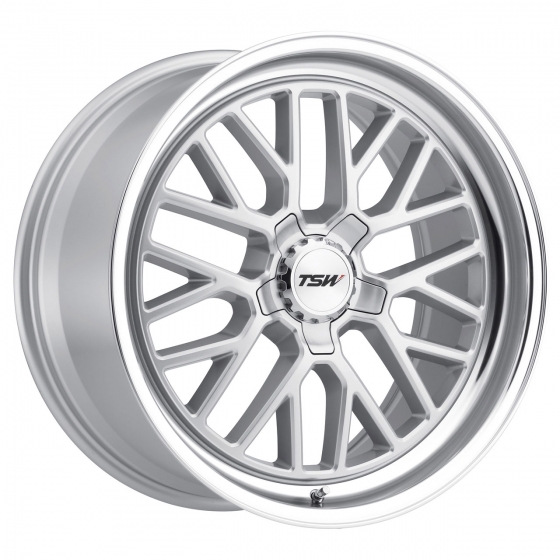 This wheel is discontinued and has limited availability.
Discount pricing available on remaining stock.
Call or Request a Quote to check for available inventory.
Perhaps TSW's most nostalgic wheel is the Hockenheim R notably known for its center-lock style center cap that tuners and enthusiast lust for. For years TSW has been tampering with the idea to bring this center lock mechanism back to the 21st century in a way that is only not fashionable, but dependable. Finally through careful R&D TSW proudly releases the successor to the Hockenheim R with the Hockenheim S, a true classic motorsports mesh style with a modern center-lock mechanism built to last.
The wheel features a retro style Mirror Cut lip and an updated mesh center with chamfered edges only made available by the highest quality casting standards. The retro lip design enables large brake caliper clearance while maintaining a nostalgic look. Hockenheim S is available in sizes 17x8, 18x8.5, 18x9.5, 19x8.5, 19x9.5, 20x8.5 and 20x10.
Shown in Silver w/ Mirror Cut Lip
| Sizes | Catalog | Closeout |
| --- | --- | --- |
| 17 × 8 | CALL | CALL |
| 18 × 8 | CALL | CALL |
| 18 × 8.5 | CALL | CALL |
| 18 × 9.5 | CALL | CALL |
| 19 × 8.5 | CALL | CALL |
| 19 × 9.5 | CALL | CALL |
| 20 × 8.5 | CALL | CALL |
| 20 × 10 | CALL | CALL |
Featured Brands
Also Available