Wheels » TSW » Mosport in Matte Black Machined (Dark Tint)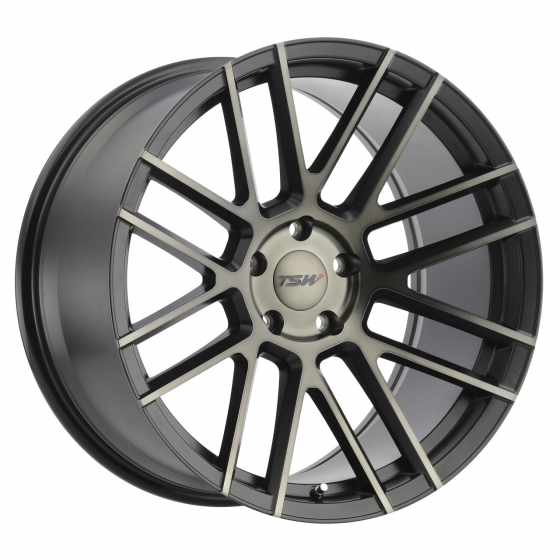 This wheel is discontinued and has limited availability.
Discount pricing available on remaining stock.
Call or Request a Quote to check for available inventory.
For the first time TSW brings a concave depth to the wheel game for 2018. Mosport was created specifically with aggressive fitment in mind maximizing concavity in every size along with two *ultra concave molds in 20x10.5 and 22x11. Mosport features a modern surfaced 8 window mesh lightened with deep scallops and undercut to shave a few extra pounds. Made to turn heads the Mosport is available in Gloss Black or Matte Black with Machine Face and Dark Tint.
Shown in Matte Black Machined Face w/ Dark Tint
Other Finishes Available:
Gloss Black
| Sizes | Catalog | Closeout |
| --- | --- | --- |
| 18 × 8.5 | CALL | CALL |
| 18 × 9.5 | CALL | CALL |
| 19 × 8.5 | CALL | CALL |
| 19 × 9.5 | CALL | CALL |
| 20 × 8.5 | CALL | CALL |
| 20 × 10 | CALL | CALL |
| 20 × 10.5 | CALL | CALL |
| 22 × 9 | CALL | CALL |
| 22 × 10 | CALL | CALL |
| 22 × 10.5* | CALL | CALL |
| 22 × 11* | CALL | CALL |
Featured Brands
Also Available